intraMAX® is a 100% organic liquid microcomplexed™ all-in-one multivitamin with 415+ essential nutrients in each bottle. It contains 71 trace minerals along with other health promoting "super foods."
intraMAX® is the most scientifically advanced, clinically proven, health promoting organic nutritional supplement available today!
It is the ONLY supplement that can replace other supplements and delivers all required nutrients.
intraMAX® energizes, strengthens, enhances stamina, as well as helps prevent the common cold, flu symptoms, and seasonal allergies. Its unique complex helps reinforce immune functions, restore balance in the body, and combats aging by restoring skin moisture, fighting free radicals, and eliminating metals and harmful toxins.
intraMAX® does NOT contain: preservatives, colloids, fat, cholesterol, wheat, gluten, caffeine, corn, yeast, rice flour, peanuts, nuts, soy, dairy, fish or fish oil, animal products, artificial additives, artificial colors, artificial flavors, fillers, pesticides, herbicides, antibiotics (drugs), chemicals, starch, binders, coatings, excipients, or flow agents.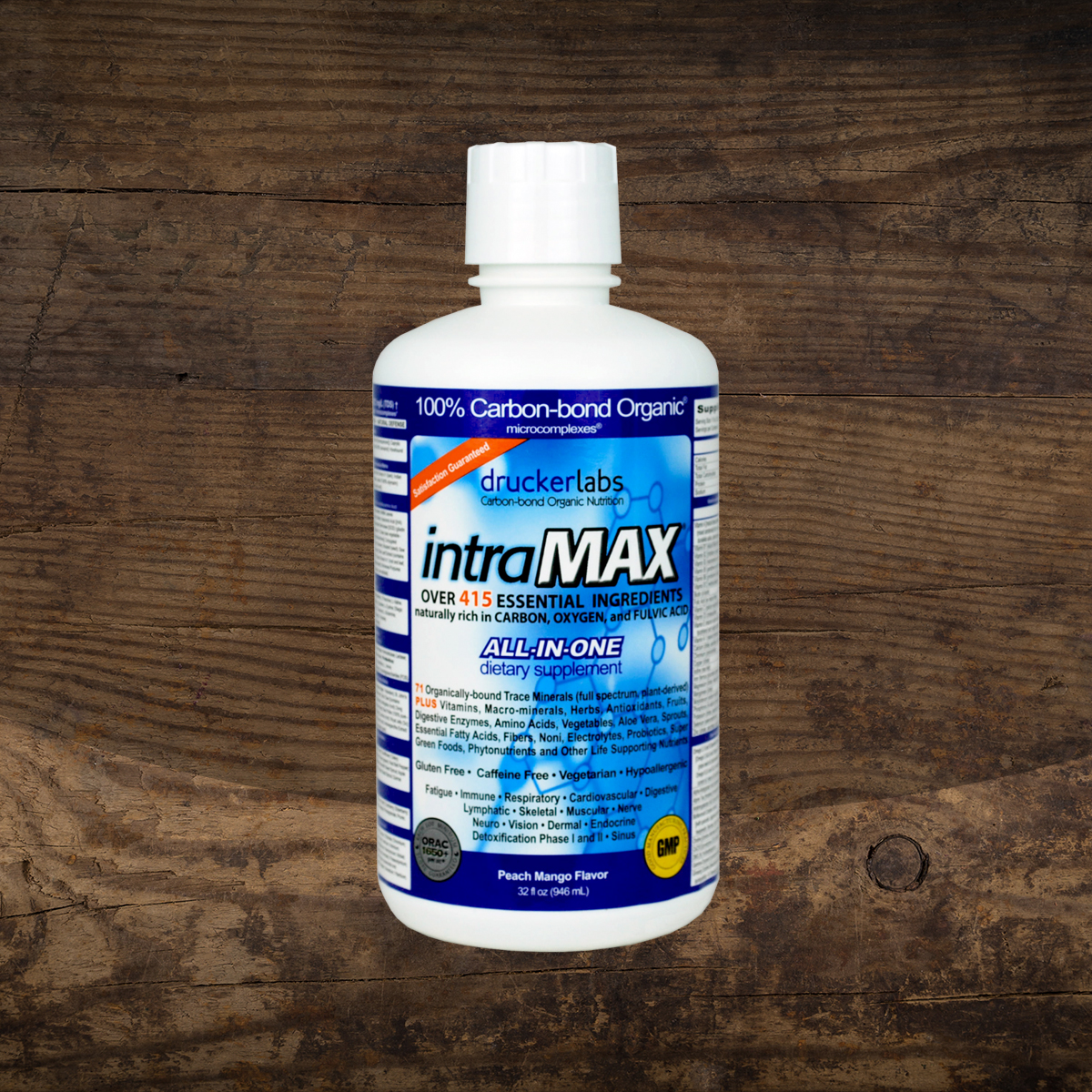 Get Maximum Energy, Strength, & Wellbeing
71+, 100% organic microcomplexed™ organic trace minerals (full spectrum)
proprietary organic "carbon-bond" intraCELL™ V Technology
124 antioxidants ("free radical" scavengers / anti-aging)
40 amino acids ("building blocks" of protein)
carbon (living), 100% organic (144,500 mg/l)
essential fatty acids (EFA)-omega 3, 6 & 9
oxygen - 427 mg/l (dissolved & stabilized)
14 digestive enzymes (pure plant derived)
43 super green foods & phytonutrients
38 essential oils (organically bound)
64 vitamins and nutrients (essential)
19 macro minerals (100% organic)
23 vegetables (antioxidant rich)
65 electrolytes (100% organic)
aloe vera (organically bound)
8 protein mineral nutrients
30 fruits (antioxidant rich)
silver (organically bound)
13 probiotics (non-dairy)
noni (organically bound)
54 herbs (adaptogenic & supportive)
11 carotenoids (mixed)
25 fibers (all natural)
ultra hypoallergenic
11 optimum seeds
110 bioflavonoids
fulvic acid (9.2%)
100% drug free
NO additives
100% natural
100% vegetarian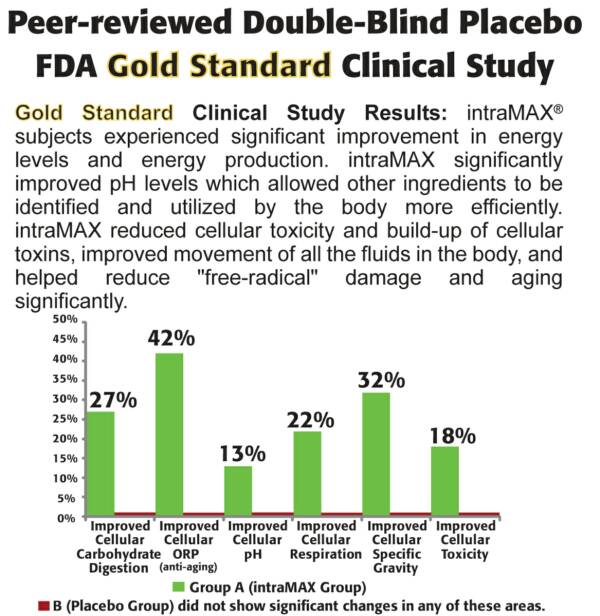 Here's How intraMAX Works For You: