Roger Teeter once suffered from debilitating back pain. He pursued the usual route of doctors, chiropractors and back care gadgets, but nothing worked. As an avid water skier, Roger knew that he could not continue to pursue his passion unless he found a solution. In 1980, at a water ski tournament, Roger discovered the newly emerging trend of inversion therapy.
Inversion therapy was the only solution he'd ever found that gave him relief from his back pain. Roger Teeter began sharing his story and discussing inversion with his friends and family. Before long, Roger was using his engineering background to develop inversion equipment that he could share with the world. In 1981, Roger Teeter and his wife Jenny started the company STL (Sky's the Limit) to begin manufacturing and distributing inversion products.
Like Roger, many people began discovering the benefits of inversion therapy in the early 1980's. The marketplace became flooded with inversion products of every make and model, many of them unsafe and unreliable. As a former Boeing engineer, Roger Teeter recognized the importance of quality materials and superior design. He would not settle for making just a good product – he set out to create the best product, one with which he could proudly associate the family name, "Teeter."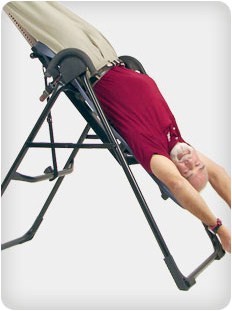 What sets Teeter products apart from other inversion therapy equipment?
Record of Excellence

Teeter is the only company in the world to continuously produce inversion equipment since 1981 (learn why other companies went out of business). Our longevity in the industry is something we are most proud of – no other company in the world has been making inversion therapy equipment as long as we have. With the most experience in the inversion table industry, Teeter delivers the best product to you.

Industry Pioneer

We have set the benchmark in quality by being the only company approved by Underwriter's Laboratories (UL) to have our inversion table listed and approved by UL. (learn more about UL 60601-1). In recent years, Teeter has worked alongside UL to develop a testing protocol for inversion tables to improve quality standards within the industry and ensure consumer protection.

Quality-Assurance Testing

Teeter routinely works with independent engineering groups to organize and publish results on durability and performance testing. Our equipment has been put through the rigors of static load tests (extreme weight in the fully inverted, lock-out position) and cycle tests (to analyze performance with repeated use in a multi-user environment)). Teeter performs these engineering tests side-by-side with other widely distributed brands of inversion tables to ensure that Teeter tables surpass all other brands in quality, durability and ease of use.

Continuous Innovation

Teeter Hang Ups tables have benefited from over 100 upgrades to the table design. Our engineers consult with doctors, chiropractors, athletes, independent engineers and everyday users to ensure that our inversion tables withstand the scrutiny of the most discriminating users (Check out our newest inversion table).

The Teeter Guarantee

You won't be able to find better made, easier to assemble or easier to use inversion equipment – that's our guarantee to you. We back that up with a 30-days money-back guarantee and a 5-year warranty.
Free 5-Minute Nutritional Assessment: